My Blog
Posts for: October, 2017
By Hare Orthodontics
October 29, 2017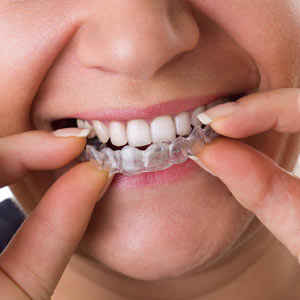 You've invested a lot of time and money in orthodontic treatment to improve your smile. If you're not careful, though, your teeth could actually move back to their old positions. The reason why is related to the same natural tooth-moving mechanism we use to straighten teeth in the first place.
Teeth are held in place by an elastic, fibrous tissue called the periodontal ligament lying between the teeth and the jawbone and attaching to both with tiny collagen fibers. The periodontal ligament allows for incremental tooth movement in response to pressure generated around the teeth, as when we chew (or while wearing braces).
Unfortunately, this process can work in reverse. Out of a kind of "muscle memory," the teeth can revert to the older positions once there's no more pressure from the removed braces. You could eventually be right back where you started.
To avoid this, we have to employ measures to hold or "retain" the teeth in their new positions for some time after the braces come off. That's why we have you wear a dental appliance called a retainer, which maintains tooth position to prevent a relapse. Depending on what's best for your situation, this could be a removable retainer or one that's fixed to the teeth.
Patients typically wear a retainer around the clock in the immediate period after braces, and then eventually taper off to just nighttime wear. Younger patients must wear one for several months until the new teeth positions become more secure and the chances of a rebound diminish. For older patients who've matured past the jaw development stage, though, wearing a retainer may be a permanent necessity to protect their smile.
Retainer wear can be an annoyance, but it's an absolute necessity. Think of it as insurance on your investment in a new, more attractive smile.
If you would like more information on improving your smile through orthodontics, please contact us or schedule an appointment for a consultation. You can also learn more about this topic by reading the Dear Doctor magazine article "The Importance of Orthodontic Retainers."
By Hare Orthodontics
October 14, 2017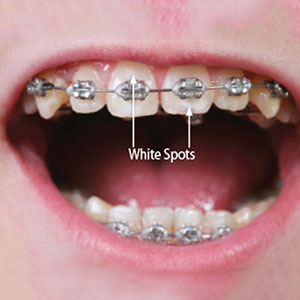 After months of wearing braces it's time for the big reveal: your new and improved smile! Your once crooked teeth are now straight and uniform.
But a look in the mirror at your straighter teeth might still reveal something out of place: small chalky-white spots dotting the enamel. These are most likely white spot lesions (WSLs), points on the enamel that have incurred mineral loss. It happens because mouth acid shielded by your braces contacted the teeth at those points for too long.
Most mouth acid is the waste product of bacteria that thrive in dental plaque, a thin film of food particles that can build up on tooth surfaces. High levels of acid are a definite sign that plaque hasn't been removed effectively through brushing and flossing.
But normal hygiene can be difficult while wearing braces: it's not easy to maneuver around brackets and wires to reach every area of tooth surface. Specialized tooth brushes can help, as well as floss threaders that help maneuver floss more easily through the wires. A water irrigator that uses pulsating water to remove plaque between teeth is another option.
However, if in spite of stepped-up hygiene efforts WSLs still develop, we can treat them when we've removed your braces. One way is to help re-mineralize the affected tooth surfaces through over-the-counter or prescription fluoride pastes or gels. It's also possible re-mineralization will occur naturally without external help.
While your teeth are sound, their appearance might be diminished by WSLs. We can improve this by injecting a liquid tooth-colored resin below the enamel surface. After hardening with a curing light, the spot will appear less opaque and more like a normal translucent tooth surface. In extreme cases we may need to consider porcelain veneers to cosmetically improve the tooth appearance.
In the meantime while wearing braces, practice thorough dental hygiene and keep up your regular cleaning visits with your general dentist. If you do notice any unusual white spots around your braces, be sure to see your dentist or orthodontist as soon as possible.
If you would like more information on dental care during orthodontic treatment, please contact us or schedule an appointment for a consultation. You can also learn more about this topic by reading the Dear Doctor magazine article "White Spots on Teeth during Orthodontic Treatment."